Fair Park, a 277-acre park located two miles southeast of downtown Dallas, has been a centerpiece of entertainment in the area since it was built in 1936 for the Texas Centennial celebration. Every October, it is home to the Texas State Fair, which attracts visitors from all over the region and beyond. More than 80 years after its construction, the park continues to be recognized for its accomplishments, including being designated as a National Historic Landmark in 1986 due to its incredible collection of art-deco buildings, one of the largest in the country.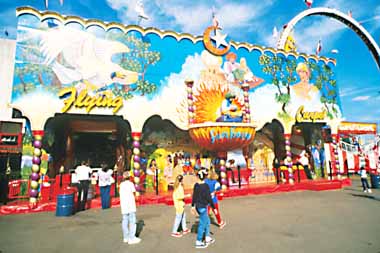 The park offers numerous attractions for visitors to enjoy, such as eight museums, the Cotton Bowl stadium, and the outdoor Starplex Amphitheater. Not only does Fair Park provide exciting entertainment opportunities for everyone, but it also possesses cultural and educational significance that cannot be understated. Its storied history, and modern facilities make it an impressive example of what ingenuity and community support can create.
Museums at Fair Park
Visitors to Fair Park in Dallas, Texas, will find much to explore and appreciate. Whether looking for a family outing or an educational experience, Museums at Fair Park have something for everyone. There's no shortage of exciting activities and displays, from world-class art galleries and history museums to interactive science exhibits and an aquarium.
The Museum of Natural History features habitats of native animals, birds, minerals, and plants. Science Place has hands-on displays, a planetarium, and an IMAX Theater. The Age of Steam Museum offers a nostalgic look at a time when railroads were king. The Aquarium at Fair Park features 375 species of exotic and native aquatic animals. The Hall of State was built in 1936 and contained the Museum of Texas History, which depicts epic-scale historical figures in marble and mosaics. The Music Hall at Fair Park is home to the Dallas Opera. The Horticulture Center is a 7-acre southwestern garden.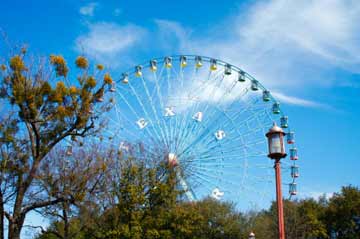 In addition to these incredible museums, the park also features a walking tour where guests can learn about its fascinating history. Take advantage of the opportunity to observe some of its splendid Art Deco architecture daily and at night. With its charming blend of lush green spaces and innovative buildings, Fair Park is sure to be a rewarding visit.
A trip to the Museums at Fair Park is a great way to spend quality time with loved ones while learning more about the diverse cultures and species that make up our world. With its wide variety of exhibitions and attractions, visitors of all ages can expect to be pleasantly surprised and engaged equally. So don't miss this remarkable destination next time you look for a thoughtful and inspiring activity in the Dallas area!
Cotton Bowl
The Cotton Bowl is one of America's oldest college football bowls and a beloved staple of holiday season football. Founded in 1937 at the historic Fair Park Stadium in Dallas, Texas, the Cotton Bowl has long been a hub for some of the sport's greatest moments and most iconic players. This year, two powerhouse teams from the Big 12 Conference will face off in the 85th edition of this classic athletic showcase.
The game should be exciting to watch, as both teams boast remarkable offensive playmakers who will put their speed and skill on full display. Expect plenty of fireworks from Oklahoma State quarterback Spencer Sanders and his elite receiver tandem of Tylan Wallace and Dillon Stoner. On the other side, Iowa State will counter with its dynamic passing attack featuring quarterback Brock Purdy and receiver Deshaunte Jones. Defensively, both teams bring considerable talent, allowing fans to witness premier players showcasing their abilities on the gridiron.
The modern Cotton Bowl is bigger and better than ever before, but it still holds true to the traditions that have made it such a storied event. As always, folks in attendance can find pre-game festivities, including a parade and halftime performances by marching bands from each school. Whether in person or at home, it's sure to be an enjoyable and memorable experience for all involved.
The Cotton Bowl was built in 1930 during the Depression for $328,000. The stadium seats about 70,000 for collegiate football games and was once the home of the Dallas Cowboys. College football's national championship has been won or lost at the Cotton Bowl eight times. The Cotton Bowl game is held here on New Year's Day, and participating teams for 2002 are expected to earn $2.5 million per school.
Fair Park
3809 Grand Ave
Dallas, TX 75210
214-670-8400