Dallas – Fort Worth Climate Overview
is among the hottest areas in the United States
(why do you think our Air Conditioning is so good? – ed) particularly during the summer season. This temperature typically trails Arizona's Mojave Desert basin, the southern part of Nevada, and the southeastern region of California.
Dallas Tx weather's lowest temperature (−8 °F (−22 °C)) that was ever recorded happened on Feb. 12, 1899 and the highest recorded temperature (113 °F (45 °C) happened on June 26-27, 1980. On the average, temperature for the Dallas Tx weather results typically ranges from 57.1 °F (13.9 °C) to 76.7 °F (24.8 °C).
Dallas – Fort Worth Weather – Rain
In terms of rainfall, it usually receives around 37.1 inches (942.3 mm) of rain every year.
Dallas – Fort Worth Tx Weather – Winter
Dallas experiences winter too but it's generally mild. The typical daytime highs range from  55 °F (13 °C) to 70 °F (21 °C) and the normal nighttime lows range from 30 °F (−1 °C) to 45 °F (7 °C). During days of clear and sunny weather conditions, temperature highs can reach 63 °F (17 °C) and temperature lows fall to 36 °F (2 °C) which normally happens in wintertime. On the other hand, strong cold fronts, also known as "Blue Northers" at times pass through the region of Dallas which render temperatures as low as below 25 °F (−4 °C) for a couple of days making daytime temperatures struggle just to reach 40 °F (4 °C).
Dallas – Ft Worth Weather – Snowfall
Once every winter, snowfall occurs for an average of 1-2 days bringing an annual average of 1.7 inches (4.3 cm) of snow. However, there are other regions that accumulate more snow while others receive none at all. Moreover, many times during winter, the warm and humid air coming from the south will override the cold, dry air, which then results in freezing rain or ice. This weather phenomenon then disrupts day-to-day activities in the city due to roads and highways being slick. However, daytime highs reaching over  70 °F (21 °C) are not really unusual in Dallas and occur at least the same number of days each winter month (December, January, February). When this occurs, temperatures fall below 30 °F (−1 °C) and consequently, high temperatures struggle to reach 50 °F (10 °C). In the last 15 years, Dallas averages 31 nights every year with below-freezing temperatures. However, an all-time record low was documented during the winter season of 1999-2000 when there were only 14 below-freezing nights. In the same span of time (15 years), below 15 °F (−9 °C) temperature only happened twice. Generally, it just drops below 20 °F (−7 °C) once every other year. Overall, these extreme temperature variations during the winter season are usually seen in the region of Dallas and Texas as compared to those areas in the Pacific and Atlantic coasts. This is brought about in part by its interior location within the North American continent and the lack of mountain ranges to help block out the extreme Arctic weather conditions.
Dallas/Fort Worth Weather – Springtime 
Spring and autumn, on the other hand, bring pleasant weather conditions to the region. During this time, colorful wildflowers bloom like Indian paintbrush, bluebonnet and many other vibrant florae. These flowers get planted along the highways all over Texas. Weather in springtime tends to be unpredictable but the temperatures alone are pretty mild. Visitors coming to Dallas from late September to early December as well as on many winter days experience pleasant weather. But unlike springtime, major storms also rarely form at this time.
 DFW Weather – Tornadoes
When springtime comes each year, cool fronts move South from the North; and when this happens, the cool fronts collide with the warm, humid air coursing from the Gulf Coast. This then leads to harsh torrents of rain, thunderstorms with lightning, hail and at times, even tornadoes. Based on history, tornadoes are probably Dallas tx weather's biggest natural threat. This is because Dallas is located at the lower end, or near the heart of the Tornado Alley. In April 2, 1957, Dallas was hit by a powerful tornado classified at F3. The next powerful tornado that ever hit the Metroplex region happened on March 28, 2000 when a tornado impacted Dallas' neighbor, Fort Worth, particularly its downtown area as well as another city, Arlington, Texas. These tornadoes left some damaged homes.
 Dallas Tx Weather – Floods
The most catastrophic flood in the region happened in 1908 which set in motion the bridging of the two river banks of Trinity River. After the major flood took its toll, the city found a way to build a bridge in order to link Oak Cliff and Dallas. They wanted to build an all-weather and indestructible crossing over the river. Eventually, the Oak Cliff Viaduct (now called the Houston Street viaduct) was constructed which at that time was touted to be the longest concrete structure in the world.
Dallas – Fort Worth Pollution
(1/2 of all Americans live in an area the American Lung Association has graded "F") Dallas has the 12th highest air pollution out of all the cities in the United States of America next to Los Angeles and Houston. This fact is according to the American Lung Association. As per their record, 30% of the pollution in the region of Dallas and in the Metroplex area in general stems from the hazardous waste materials excreted by the incineration and three cement plants somewhere in the little town of Midlothian as well as from the concrete installations of its neighboring town, Ellis County. But the biggest contributor to the Dallas air pollution is exhaust from cars and other vehicles since automobiles are the only practical mode of transportation for most of the residents, especially in the metropolitan area.
Dallas- Fort Worth Weather – Horticulture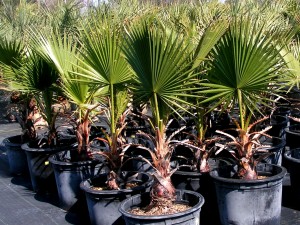 Dallas is also in the Plant Hardiness Zone 8a according to the U.S, Department of Agriculture. Horticulture of some cold-sensitive plants has also been encouraged by the mild winter temperatures during the last 15-20 years. These plants include Washingtonia robusta palms and Washingtonia filifera (image on right).