Best Coffee Shops in Dallas
It's no secret that Dallas is addicted to its daily caffeine fix. Aside from the usual Starbucks scene, there is a diverse (and sometimes overwhelming) selection of coffee shops. I went back and read my original post, and interestingly, many of them are no longer in business. I enjoy going to coffee shops to work, meet with friends, and get an energy boost. My list is made up of coffee shops that are ideal for all of these activities. This list was originally my top ten favorites, and I couldn't narrow it down any further.
Brewed + Pressed
1775 Payne St #100, Dallas, TX 75201
The mission of Brewed + Pressed is to inspire and educate a healthier lifestyle by creating food that makes you feel great from the inside out. Eating healthy has never been easier. Enjoy our menu which includes: Cold Pressed Juices, Coffee, Super Food Smoothies, Protein Shakes, Alkaline Water, Raw Desserts, Breakfast and Lunch. They're healthy, parking is easy and they have wide tables with outlets by them. While the drinks are definitely on the pricier side, I've recently loved coming here to work for hours at a time. The music is calm and good for working, too.
Café Victoria
2422 Victory Park Ln #100, Dallas, TX 75219; Phone: (214) 377-7037
Café Victoria is an idea born and raised in Victory Park. Their menu proudly features top-notch beans from Oak Cliff Coffee Roasters and delicious, baked items from Empire Baking Co., AmazeBallz and Bisous Bisous. More of a stop in for a quick something than stay for a while and study spot due to the limited seating, Café Victoria knows what they are doing. Bright, geometric patterns and turquoise accents welcome customers, and their food and drinks will no doubt have everyone coming back for days. I, for one, will be ordering a strawberry cakeball and chai every time I wander in.
Edison Coffee Co.
420 Parker Square Rd, Flower Mound, TX 75028; Phone: (469) 964-5320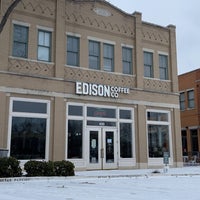 Edison exists to bring out the best in Coffee, Ideas, and People. As a company they pursue thoughtful relationships, prioritize ethical sourcing, and offer up a meaningful place for the community to gather. I stopped by here for a quick cup of coffee before going wedding dress shopping with my sister. I was super impressed with how beautiful it is and how much space there is for working! It is in Flower Mound, but if you ever find yourself out there or needing to get away for some work, head here.
Foxtrot Market
2822 McKinney Ave, Dallas, TX 75204; Phone: (972) 685-6499
Grab a cup of locally roasted Oak Cliff coffee, brewed by Foxtrot, to jump start your day or help you get through a long afternoon. Originally from Chicago, Foxtrot is currently all the rage in Uptown. Whether you're looking for a quick bite, a meeting space or coffee spot, Foxtrot has got you. It's a delivery market, but also has workspace. Since it's still new, I definitely recommend getting there early in the morning.
George Coffee + Provisions
462 Houston St, Coppell, TX 75019; Phone: (469) 464-3107
In Old Town Coppell, George Coffee + Provisions is located on the square. Laura and Christian Hemberger, the shop's owners, opened George in July and live above the shop with their two sons. If this one wasn't in Coppell, I'd be here every day. It's not only a really large coffee shop, but it's soooo beautiful. It's a giant white house and get this – the owners live upstairs! It's very family friendly and they have fun seasonal drinks, too. On Saturday mornings, the Farmers Market is right across the street from it.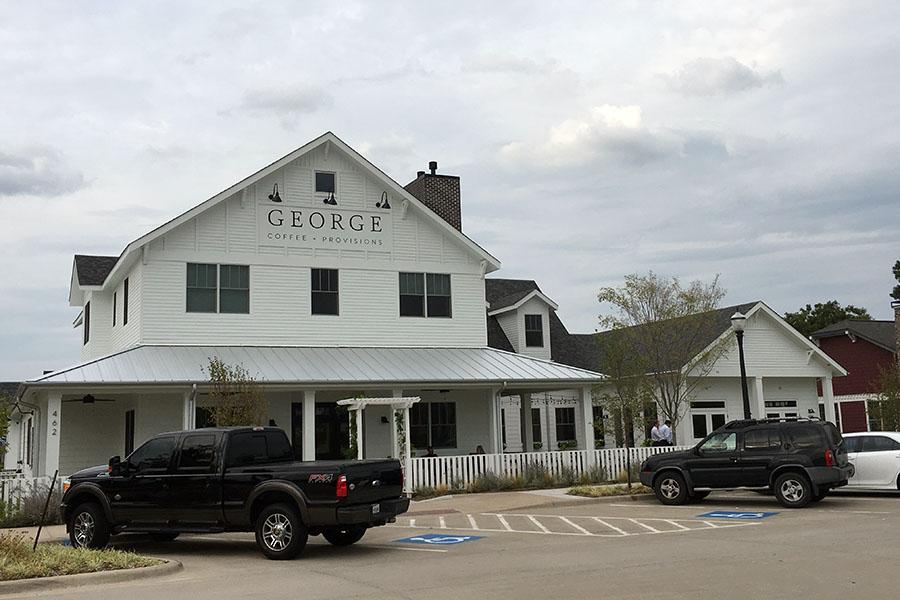 Hatchways Cafe
2346 Victory Park Ln, Dallas, TX 75219; Phone: (214) 935-1655
Hatchways Café serves wholesome, delicious breakfast, lunch, coffee and pastries, Hatchways is newer to the Dallas scene and is actually a co-working space. But, they have a gorgeous, large area to grab food and coffee with plenty of tables for anyone to work at. The iced caramel latte I got was so so good and you can pop in a lot of cute shops around Victory Park after.
Hola Cafe
416 N Tyler St, Dallas, TX 75208; Phone: (972) 863-8592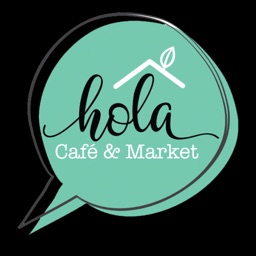 The cafe only serves 12 drinks, including cortados, cold brew, and a matcha latte. There's also a vanilla and cinnamon popsicle that tastes like horchata, according to the owner. While I wouldn't recommend this tiny coffee shop for working (it seats two people haha!), I def recommend them for the best matcha around! If you're in Bishop Arts, pop over here – the owners are incredibly nice and welcoming, too.
Houndstooth Coffee
1900 N Henderson Ave, Dallas, TX 75206; Phone: (972) 863-9080
What started as an affinity for coffee and coffee shop culture has grown into a love for sharing quality beverages with anyone and everyone. As a locally owned and operated business, Houndstooth Coffee seeks to be an integral pattern in the fabric of the Texas Coffee community. A branch of the Austin chain, this Dallas coffee shop puts all the wonderful vibes into a coffee shop that deserve to be there. With down-to-earth, friendly baristas and customers, this place delivers in every aspect possible. From the décor, to the Texas themed mugs, to the colorful side wall, it's impossible to resist Houndstooth! They have several locations in Dallas, but the one on Henderson is my favorite.
La La Land Kind Cafe
5626 Bell Ave, Dallas, TX 75206; Phone: (214) 579-9550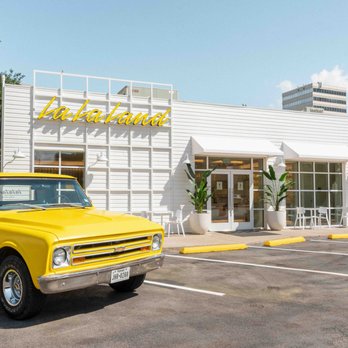 La La Land Kind Cafe has one of the largest selections of matcha drinks in the city, as well as espresso, cookies, and breakfast bites like avocado toast, all made with organic ingredients.
La La Land is one of the most instagrammable coffee shops in Dallas, and all of Dallas knows it lol. The only downfall is that I feel like it's always crowded, but with a beautiful space, a mission to support foster youth and BOMB drinks, of course it is. I love the thin mint matcha and their chocolate chip cookies are soooo good.
Magnolia Sous Le Pont
2727 N Harwood St, Dallas, TX 75201; Phone: (469) 249-9222
Magnolias is a well-curated creative space that serves artisanal coffees, delectable breakfast, fresh sandwiches, and salads. Inspiration can be found in the local art adorning the walls, as well as an assortment of everyday essentials, handmade gifts, quirky cards, and even an event calendar.
I cannot come here and not get the hot chocolate, no matter the time of year. It's so sweet in the best way possible haha! No need to bring headphones either, for the beats of Mumford & Sons, The Fray, Imagine Dragons and more will keep you going the whole time. Parking is not the best, but this place is worth it.
Merit Coffee
4228 Oak Lawn Ave, Dallas, TX 75219; Phone: (469) 759-6221
Merit Coffee is obsessed with quality. This is what drove them to start sourcing and roasting their coffee almost 7 years ago. Their team travels to Central/South America and Africa, finding the best quality coffee there is, and works directly with the farmers. The coffee gets shipped to Texas where its roasted on a 45 & 25kg Probat roaster, custom built in Germany.  Originally from San Antonio, Merit Coffee recently opened two locations in Dallas! I'm partial to the one in Deep Ellum because it's bigger, but the other is a bit closer to me. When you go, you need to get the poptart. They also have outlets underneath every table.
Otto's Coffee + Fine Foods
1321 Commerce St, Dallas, TX 75202; Phone: (214) 651-3685
Take a seat in the refined space, which is finished with dark wood and polished marble tabletops, or head to the Commerce Street grab-and-go service window for a quick cup of coffee and a hot Liege waffle. Pair your coffee with one of their delectable pastries, which are made fresh every day by their in-house pastry team.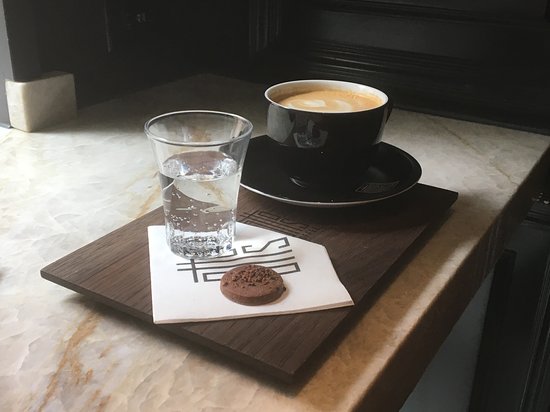 Located inside The Adolphus Hotel, Otto's is fantastic for working. They have plenty of workspace plus outlets and it's pretty easy to get in the zone. Since it's in a ~swanky~ hotel, you better believe this interior is gorgeous, too. I love their Belgian waffles and poptarts. If you sit near the door, it provides wonderful opportunity to people watch haha!
Berkley's Market
1800 Main St, Dallas, TX 75201; Phone: (214) 760-9686
I love their dirty chai with lavender – definitely my favorite dirty chai in all of Dallas! This place is always bustling with Highland Park moms and families. You can get some groceries while here, but they also have PLENTY of working space, too.
Serve House
320 W Eighth St, Dallas, TX 75208; Phone: (972) 290-0009
I'm obsessed with Serve and don't care that it's way out of my way. Located in a cute turquoise home in Bishop Arts, Serve has the best acai bowls in Dallas IMO and some insanely good drinks too. I love their honey lavender matcha and adore the cute mugs they come in. They host a lot of fun events on weekends here, too.
Verbena Parlor
2626 Howell St Ste. 166, Dallas, TX 75204; Phone: (214) 433-7359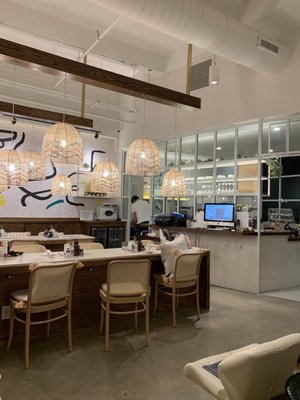 Sit back and relax while we pamper you with a cup of local coffee, a glass of wine, or a craft beer! You don't have time to pamper yourself? Not a problem! Grab a coffee on your way to work or meet up with friends over a glass of wine! Find your haven in the heart of Uptown Dallas at our social house! A non-toxic nail salon AND coffee shop, Verbena is super underrated as a work space. They've got a handful of round tables perfect for working, the drinks are delicious, and it's not too crowded because most people are there for nails. They've got outlets, too, so don't worry about that.