Best Donut Shops in Dallas
After much time and dedication to consuming ALL the donuts, it's time to share my list! I've had this blog post idea down for the longest time and am embarrassed it took me so long to complete. I could eat donuts everyday and never get tired of them, but all the time, money and calories definitely held me back for a bit haha! Heads up, I'm technically including donut places all around the Dallas-Fort Worth metroplex.
DFW has a TON of donut shops and it was hard to narrow down my list! Here's my guide to the best donuts in Dallas:
Jarams Donuts
17459 Preston Rd, Dallas, TX 75252; Phone: (972) 248-7474
Jarams Donuts are the Donut Artists in North Dallas. They make artistic donuts that do not compromise with the quality. Jarams has THE greatest gourmet donuts. They have two locations and lucky for me, one is within a few miles of my apartment. They have a cookie butter donut that is seriously out of this world. -jarams.com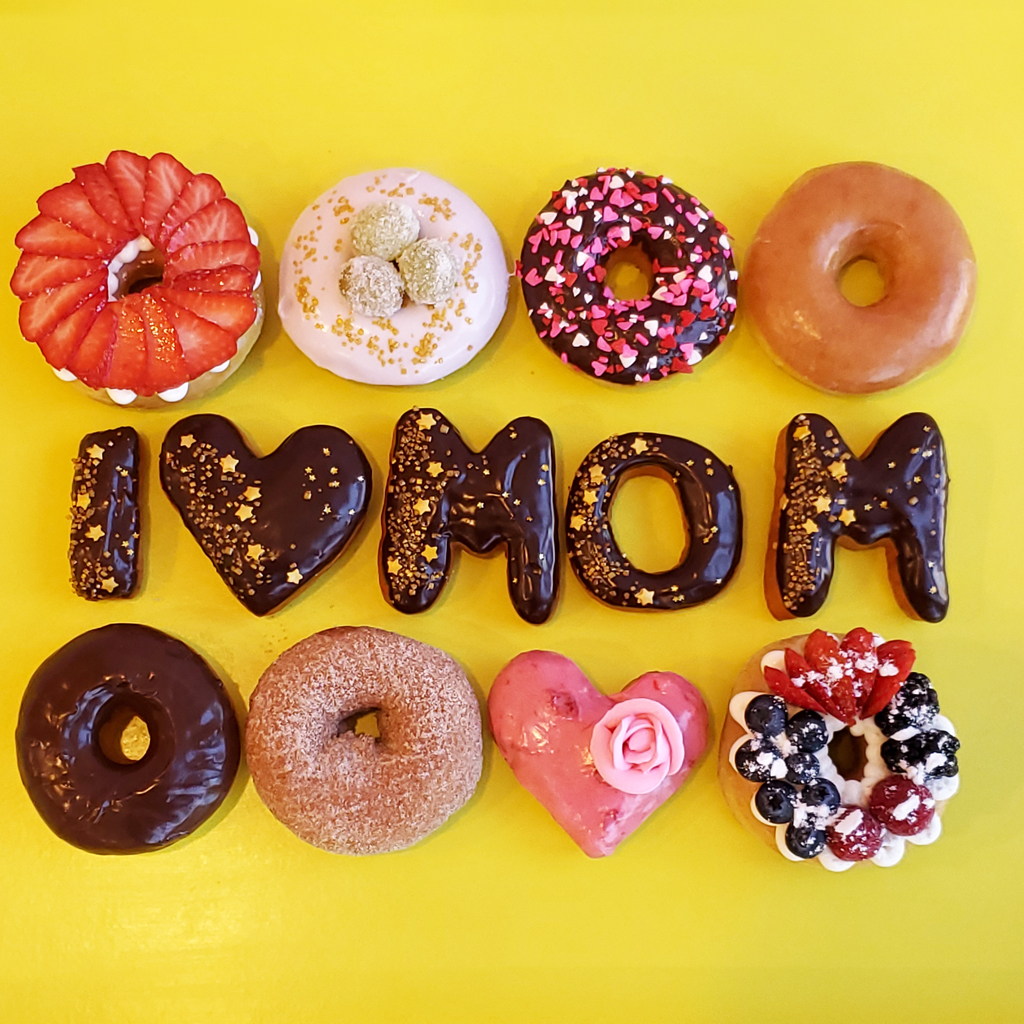 Hypnotic Donuts
9007 Garland Rd, Dallas, TX 75218; Phone: (214) 668-6999
Hypnotic Donuts, known for its exotic donut concoctions such as a chocolate cake donut covered in frosting made with chocolate, caramel, and peanut butter (the signature "Hypnotic") and a donut topped with pretzels, peanut butter Cap'n Crunch drizzled with caramel and chocolate, now has a full kitchen and a new menu. I fell in love with Hypnotic Donuts forever ago! Unfortunately, they've gotten rid of my favorite one since I started coming in college, but I still love all of the ones they have. I adore their sprinkle donut. -hypnoticdonuts.com
Mustang Donuts
6601 Hillcrest Ave #D, Dallas, TX 75205; Phone: (214) 363-4878
Mustang has been assisting the SMU crowd in achieving the "freshman 15" for many years. Don't leave without trying their famous apple fritter, which combines warm fried dough and crisp, sweet apple under a silky sheet of translucent sugar glaze. Before moving to Fort Worth when I was younger, we'd go to Mustang Donuts all the time! It's a classic mom and pop shop and it's usually packed with families on the weekend. They have my favorite sprinkle donut in all of Dallas!
Mojo Donuts
6522 Lemmon Ave, Dallas, TX 75209; Phone: (469) 236-1305
Fantastic donuts, as well as extremely friendly and hardworking owners. My boys and I are devastated that the shop was destroyed, allegedly as a result of a car accident. On Saturday mornings, we enjoyed coffee and donut tailgating in the parking lot while watching the planes take off and land. I'd gladly contribute to a GoFundMe campaign to assist the owners in reopening their doors.
While the location is maybe a bit more on the sketchy side (PSA don't stand outside taking photos for too long because you never know who might approach lol), the donuts inside are worth it. I got the cronut and blueberry donut and consumed both within minutes.
Wow! Donuts & Drips
8811 Teel Pkwy #160, Frisco, TX 75034; Phone: (469) 514-2647
The age-old combination of donuts and coffee, while recognized far and wide, never allowed them to reach their full, glazed, filled, sprinkled, and hand-crafted potential. WOW! was born to turn this on its head and reimagine the iconic duo in a bright and innovative new way.
I love coming to WOW! when I want a donut and have a lot of work to do. Unlike a lot of donut shops, they're open during the day and have a giant workspace. Their donuts are adorable and delicious – I love the rainbow one!
Yummy Donuts
4355 Lovers Ln, Dallas, TX 75225; Phone: (214) 520-7680
These are the most unusual and delicious donuts I've ever had. There are numerous types, flavors, icings, shapes, and sizes available, as well as a few 'plain' donuts. Kolaches, also known as piggy's, come in a variety of flavors. There's also a bacon pig. My kids are completely smitten with this location.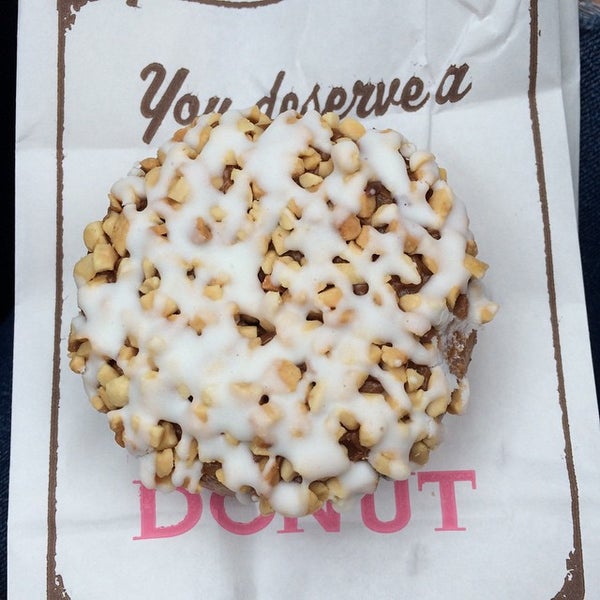 Yummy Donuts is my favorite place to get a cake donut in Dallas. They put the best icing on top and have really fun donuts too, like cookies n cream or ones that look like Hello Kitty. I can't leave here without a pig-in-a-blanket, either!
Detour Doughnuts and Coffee
8161 FM 423, Frisco, TX 75036; Phone: (469) 535-3585
Seasonal doughnut flavors are handwritten in a dainty font on a chalkboard: pistachio ganache, blueberry goat cheese, and even a "everything doughnut" (a bagel-like doughnut) with a creamy onion schmear.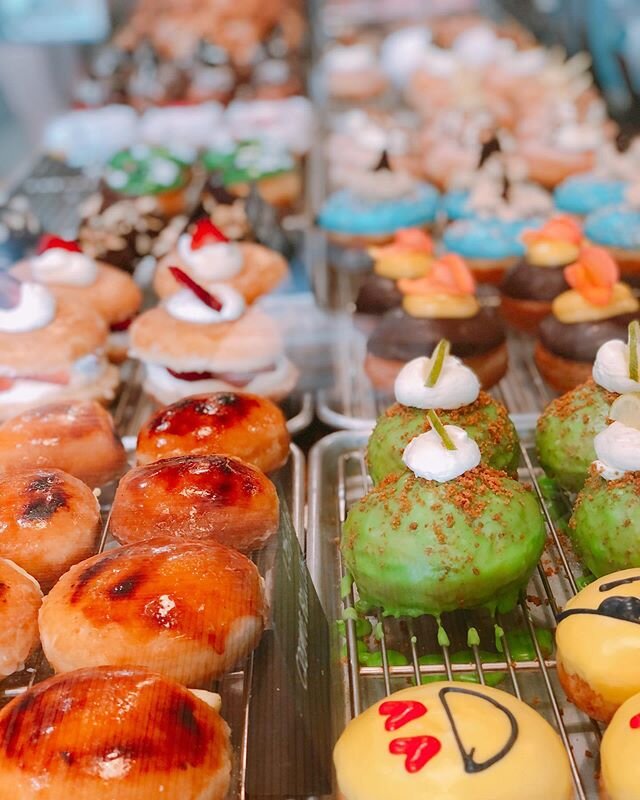 Here's one that's a bit of a drive for us Dallas folks, but I love the owner and their donuts so much! They have adorable holiday donuts PLUS macarons, too! I got their donuts around Valentine's Day and think they're my favorite holiday donuts I've ever gotten.
Earnest Donuts
4740 TX-121 #700, Lewisville, TX 75056; Phone: (214) 469-1177
They have a huge selection of one-of-a-kind donuts. The staff is friendly and welcoming. I drive over an hour to get their donuts and bring as many people as I can. Now that I've tried their donuts, no other shop comes close in terms of quality or variety. It's time well spent.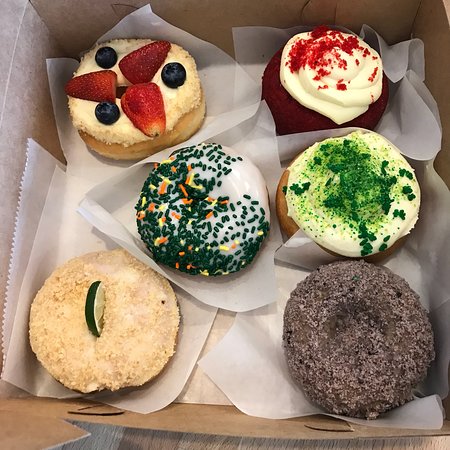 While you do have to drive to Lewisville for this one, it's worth the drive! What I'm most obsessed with? THEIR DONUT HOLES. Go for regular glazed and I promise you won't be disappointed.
I had to draw the line somewhere, but wanted to include a few other notable mentions that I just didn't get the chance to go back and take photos with my camera! They are FunkyTown Donuts , The Donut Kitchen , Dough Boy Donuts, and Hurt's Donuts.