It was like a music to my ears when I found out that IXL has given me the opportunity to have a year access to their wonderful program – the Math and Language Arts online practice good for up to two children. I first stumbled this site about 2 years ago when I was searching for an online Math learning tool. I let my son try the free 20 trial questions provided, and fortunately he instantly liked the program and insisted me to subscribe. However, I wasn't able to do it due to its cost.
What is IXL?
IXL offers vibrant, motivating online practice program for Math and Language Arts available in different International editions for schools and home use.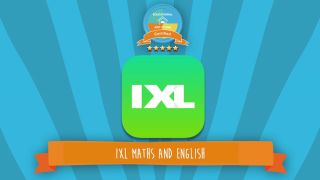 More than 12 million students use the IXL platform, which is a personalized digital learning space that covers K-12 curriculum. This is a very comprehensive service, with over 8,500 skills in math, English language arts, science, social studies, and Spanish.
Educators are given the tools that can help students target specific learning goals by using a curriculum base, actionable analytics, real-time diagnostics, and personalized guidance.
The 'immersive learning experience,' as it's been dubbed, has so far answered more than 91 billion questions around the world. On the IXL website, you can even see a counter of this number, which is increasing at a rate of about 1,000 questions per second.
IXL

 

Math
It is available from Junior Kindergarten up to Grade 12. Each level has its own list of categorized skills to practice. You need to move your mouse over any skill name to view a sample question. To start practicing just click a certain skill. The program is also available through Android and iPad applications, however, it's only until in Grade 6 level.
Sample Question:
Language Arts
This is not available yet in Canada edition, nevertheless, I am still grateful that I have also given the access to the US edition  which provides my grade 2 son to practice the subject. It is available starting Second Grade till the Eight Grade. Since my son is in the second grade French immersion class, so I  teach him English lessons at home, and with this amazing online practice program it helps him to develop his learning journey. Hopefully in the future, it will be available in Canadian edition and in mobile applications.
Sample question: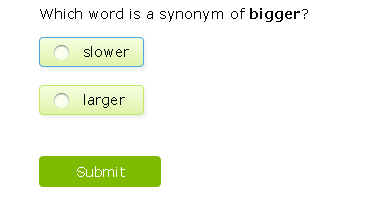 IXL Wonderful Features We Loved
Immediate feedback and Praises
Every time the child answers the question correctly, he/she gets praises such as Awesome, Good Job, Bravo, Excellent and Terrific, which absolutely uplift the spirit of the child to keep going with his work. If answered incorrectly, the detailed explanation is also provided.

Audio
This feature helps my daughter  to solve the problems independently even though she couldn't read some of the words being used in the program. The audio is found before every question from Junior Kindergarten to Grade 1 level.
Awards
When the child able to finish answering all the questions at a certain skill or practice longer, he/she gets an award such as certificate, gold medal and a prize. This feature is cool and it inspires our little learners to strive or practice for more to get rewards after. Actually, my children are always counting the medals and prizes they received.  My only concern here is that my son gets frustrated once he gets incorrect answers because it will lower his SmartScore and this cause him to take time to reach a 100 score and to receive his award.  But I always tell him that practice makes perfect. The more he will practice, the more he will master the lessons and he will receive more awards.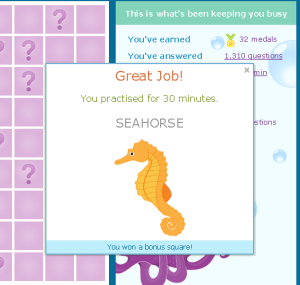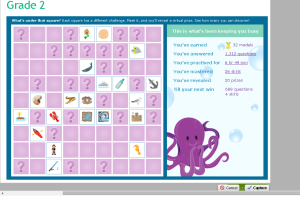 Comprehensive IXL Reports
Through this feature, I as a parent will be able to track the child's usage, performance, progress and improvement, trouble spots,  problems received and so on. It helps me also to verify  that at times I told our children to practice the IXL using the Tablet they just do other things like other games instead of  learning IXL.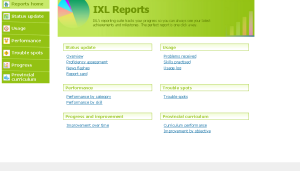 Provincial Curriculum Alignment
It's great to know that there are also lessons aligned in a  specific province, just like for the province of British Columbia where we reside.  With this tactic, we as parent have the idea or guide the coverage lessons what to teach to our children and which topics for them to study throughout the school year. Recently that the BC province hasn't opened yet the school due to unsettled Teachers' Strike which started weeks before the end of 2013-2014 class, me as a mother of two little children is finding different ways to educate our children from home so they  wouldn't be  behind in education as soon as the class begins.  In this time of education crisis, IXL is one of my teaching partners. Thank you very much  IXL for this amazing program!
How much is the Cost to Subscribe?
Pricing for IXL vary. The prices listed below are per family; however, children, schools, and districts can apply for a customized quote that may result in savings.
A single subject membership costs $9.95 per month or $79 per year.
If you choose the combo package, which includes math and language arts, you will pay $15.95 per month or $129 per year.
The core subjects, which include math, language arts, science, and social studies, cost $19.95 per month or $159 per year.
Choose a classroom-specific package, and the cost will start at $299 per year and increase depending on how many subjects you use.
My Overall Impression
IXL is truly an amazing program! It makes learning fun and motivating. I highly recommend IXL to any parents or teachers to use it as part of the learning of their children or students despite of its price which I find it costly. My piece of words to the parents, "you must guide the child and see to it that the he/she has taught the concepts before using the application to practice certain skills."