In honor of the men and women who rode the trails, braved the west, branded the heat with their own passions, and brought us into the future while retaining a bit of the past, Texas' ranches are highlighted here as depictions of what once was. With thanks to these hospitable guest ranches, a bit of the past still remains for us to visit, explore, and enjoy. Is there anyone around who hasn't imagined what it would be like to ride on a cattle drive? Ride the high country on horseback with just a pack? Or sleep beneath the stars while camped alongside a peaceful stream?
Fiction writers such as Louis L'Amour, Jeanne Williams, Larry McMurtry, and others have popularized ranch life in Texas and the southwest. Hollywood has shown us the comical side of life on the trail in films such as "City Slickers," which starred Billy Crystal as a burnt-out New York City businessman experiencing mid-life crises.
American Rodeo continues to draw hundreds of thousands of onlookers each year as cowboys and cowgirls pit themselves against the challenge of taming the wild bronc, calf, steer, or bull. Western Outlaws have developed a following that traces their steps to places like Lincoln County, New Mexico, where Billy the Kid was known to have fought in the Lincoln County wars.
These wars tried to preserve ranch life as it was in the face of corporate ranching, railroad development, and banking interests. These along with the efforts of many others in ranch life have preserved not only the land but the mythology. Like Willie says, "Our heroes have always been cowboys," and it is because of this that we yearn to experience life on the ranch. Join us as we experience life on the ranch all over the great state of Texas.
Beaumont Ranch
Texas ranches are as varied in style as they are in number and are located all through the state. We will begin our journey in North Texas, where the Beaumont Ranch is a working cattle ranch south of Fort Worth in Grandview.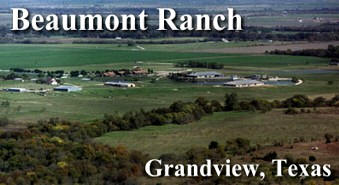 There are 17 bed and Breakfast rooms, a full-service spa, 40,000 square feet of meeting space, paintball courses, trail rides, on-site cafe, and full-service catering.
They have a variety of games including the mechanical bull, pool tables, foosball, obstacle course, roller roper, moon bounce and more. They are family-friendly, and romantic getaways are a specialty.
Hide-A-Way-Ranch
East of Dallas, the Hide-A-Way-Ranch and RV Park offers the unique experience of camping on a cattle ranch in Canton. The ranch is conveniently located to First Monday Trade Day and other Van Zandt County attractions. Also east of Dallas is the Rocking L Guest Ranch in Wills Point with everything from trail rides, to campfires, to fishing.
Rancho De La Roca Retreat
North of Denton, the Rancho De La Roca Retreat, is a unique atmosphere for family get-a-ways, reunions, church retreats, weddings, company picnics, and corporate meetings. Located in horse country U.S.A.- Aubrey, 10 miles northeast of Denton, is near Lake Ray Roberts.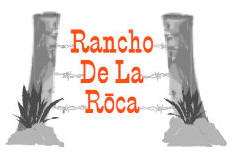 Reata Ranch
Another option located north of Denton is visiting the Reata Ranch, a horse-breeding ranch in Pilot Point. The ranch welcomes visitors and will give you a tour of their facilities and their many beautiful Quarter Horses and Paints.
Hockaday Ranch Bed & Breakfast
West of Fort Worth, in Graham, visitors will find the Hockaday Ranch Bed & Breakfast as well as the Double HH Ranch in South Bend, a working horse and cattle ranch with guesthouses for visitors.
Finch Ranch Lodge
In the Northwestern Texas panhandle, the Finch Ranch Lodge in Hedley, southeast of Amarillo, is secluded with those one-of-a-kind west Texas sunsets, wildlife, and stars so close you can almost touch them. The ranch is within easy driving distance to Palo Duro Canyon State Park, the American Quarter Horse Museum, and the Panhandle-Plains Historical Museum.
Also in the Panhandle, the River Breaks Ranch, located in Amarillo, features Texas' greatest cowboy chuck-wagon experience in the west. Covered Wagon rides, stampedes, working cowboys, and horse races are just a few of the Texas-style activities you will find at River Break.
Journeying south, Canyon Lake Ranch bed and breakfast lodges in Canyon Lake, provide luxurious accommodations with private pool, hot tub and sauna, and time to hand feed the friendly Texas Longhorn cattle.
Lazy F Guest Ranch
If you are interested in a working vacation, the Lazy F Guest Ranch in Smiley means business when they say guest ranch and working ranch because you do the work right alongside the cowboys! Another south Texas gem is the Mariposa Ranch Bed & Breakfast in Brenham. It features gourmet food, lots of pampering, and a romantic atmosphere all also on a working ranch. The ranch area has a history as well. According to their web site, Davy Crockett once passed through its lands and nearby, Sam Houston was baptized in the creek. The Mariposa also boasts cottages, a farmhouse, a two-story Greek revival home, and an authentic log cabin.
In the heart of Texas Hill Country, the Roddy Tree Ranch is a rustic oasis with cottages on the Guadalupe River between Kerrville and Hunt. Roddy Tree offers the ideal family getaway, with fishing in the Guadalupe River, swimming in the onsite pool, an organic garden and much more.
Texas Ranch Life in Bellville is a 1600 acre Guest Ranch with bass fishing, horseback riding, and historic homes.
Bellville is located 60 miles west of Houston, a perfect country setting with wildflowers and rolling hills.
Lake at Roddy Tree Ranch
One of the best places to go horseback riding is the Running-R Guest Ranch near Bandera, the "Cowboy Capital of the World"! Enjoy the best horseback-riding program at this guest ranch with direct access to a 5,500-acre State Park offering miles of breathtaking trails and unspoiled nature! The ranch offers easy relaxing rides along varied trails while experienced riders have access to more skill challenging trails. Riding lessons, swimming-pool, outside barbecues, cowboy breakfasts, mountain biking, hiking and much more is offered! Visit a place where mass tourism is unknown but true hospitality will be found.
Yellow Rose Ranch
Our last stop in south Texas is the Yellow Rose Ranch in Tarpley, 20 minutes from Bandera, and an hour from San Antonio, this place has it all; horse boarding, canoeing, tubing, and fishing located in scenic hills with a lake, waterfall and a creek. Accommodations are 2 and 3-bedroom lodges with full kitchens.
Historic Prude Guest Ranch
Out in west Texas, the scenery is a little different, but the hospitality is the same. The first stop is the Historic Prude Guest Ranch in Fort Davis. A guest and working ranch that has seen five generations of Prudes since the arrival of their "Grandmother Prude," over 100 years ago. Located at 5000 feet in the Davis Mountains where the nights are cool and the air is clean. The Historic Prude Guest Ranch is family-oriented.
Cibolo Creek Ranch
The Cibolo Creek Ranch in Shafter (near Presidio) is, "a journey back in time to the romantic old west." Hiking, cattle drives, horseback riding, fishing, tours, ranch rodeos and much more. Accommodations are restored forts from the 1800s. The ranch features traditional Mexican architecture and fireplaces. Meals are included in the room rates. Also in west Texas, is Stasney's Cook Ranch in Albany. 25,000 acres of birding, biking, hiking, hunting, wildlife tours, retreats, and special events. It sounds like the real Texas thing.
Madera Hills Ranch
Last but not least, we visit the Madera Hills Ranch, a Tennessee Walking Horse ranch with a small cattle operation located in the rugged hills of the Davis Mountains in far west Texas.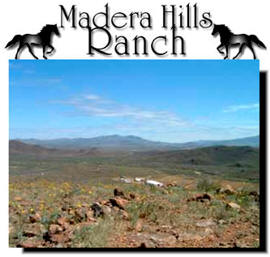 The ranch offers lodging, guided trail rides and hunting. The owner is a certified F.M. Alexander teacher (posture & balance) and gives lessons and seminars applying it to riding and everyday activities.
These are just a few of the many ranches dotting the state of Texas offering a great start in planning a true Texas get-away for your next vacation.