There is a total of 22 markers erected in Fort Worth Trail with more being added in the future. Take a stroll through downtown Fort Worth and learn about the people and events that shaped the city's rich history. Take a picture with our sleeping panther, then visit each permanent bronze-plaque commemorating a historic event. Fort Worth Heritage Trails, supported by local businesses and foundations, commemorates our community's early history through the colorful legacy of our founders.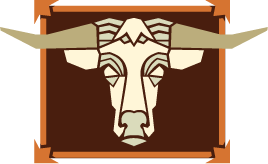 Here is a list of popular trails to visit.
Fort Worth Library
The marker was erected in 1967 by State Historical Survey Committee and is located at the intersection of West 9th Street and Houston Street.
The idea to build for the city's first library was formed when 20 women met at the home of Jennie Scott Scheuber. A civic leader, Scheuber pioneered the formation of the Fort Worth Library system. They received the required financial support from a Scottish American philanthropist and Industrialist Andrew Carnegie. The land was donated by Sarah J. Jennings and her husband, Thomas J. Jennings. Its first librarian was Mrs. Charles Schevber. The library opened its door in 1901.
African American History
The marker is erected in 2006 by Heritage Trails and City of Fort Worth. It is located at the intersection of 9th Street on Jones Street and Jones Street.
The Dallas-Fort Worth metroplex has the second largest population of African-Americans in Texas. The first known African American business was a blacksmith shop owned by John Pratt. Formed in 1979, Fort Worth Metropolitan Black Chamber of Commerce was established to enhance economic development for its members and the Fort Worth community.
Thanks to Fraternal Bank & Trust Co. and the Masonic Lodge built by businessman William Madison McDonald, residents were able to purchase homes and start businesses. In 1918, Dr. Riley Ransom opened a hospital in 1918.
JFK
Kennedy Plaza – 8th Street between Main & Commerce Streets
The marker was erected in 2006 by Heritage Trails and Fort Worth Star-Telegram and is located at the intersection of 8th Street and Main Street. It is just across from the entrance of the Hilton downtown.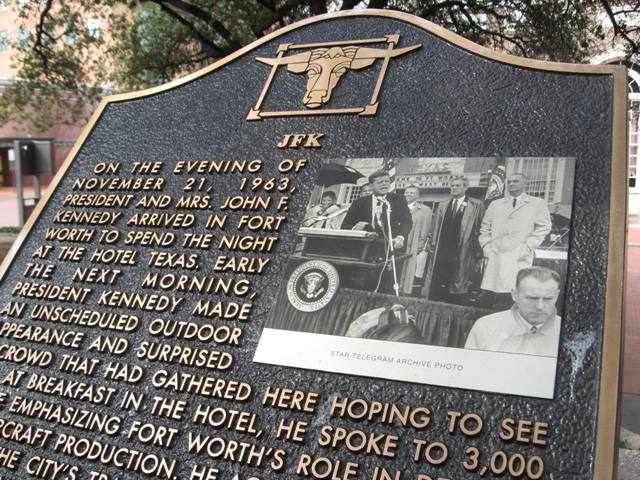 President and Mrs. John F. Kennedy arrived in Fort Worth on November 21, 1963, and stayed at the Hotel Texas. Early the next morning, President Kennedy surprised and gave a speech to a crowd of 3,000 who had gathered hoping to see him. He was given the city's traditional welcome gift – a Shady Oaks Western Hat. Following breakfast, on November 22, 1963, President Kennedy and his entourage left the hotel and started a motorcade through Dallas for a luncheon at the Trade Mart (Dallas Market Center). Five minutes away from their destination, President Kennedy was assassinated bringing shock and grief to Texas, to the United States, and the world.
Fort Worth's First Flight
Located in the northwest corner of Carroll and Mercedes Streets. Marker erected in 2012.
Although the Wright brothers were already flying powered planes in 1903, most people still had not seen an airplane. In 1910, Amon G. Carter, a popular civic booster in Fort Worth asked John Moisant, founder of The Moisant International Aviators, a touring aerial demonstration team to come to Fort Worth. Roland Garros of Moisant International Tours then performed a powered flight in a Bleriot XI and became the first person to perform a powered flight in Fort Worth.
Encouraged by Amon Carter, the US Army service constructed training airfields called Everman by October 1917. The Royal Flying Corps also used the airfield for their pilot training. After World War 1, Everman Field became the first municipal airport at Fort Worth. The navy also built a dirigible mooring station which became a stop on transcontinental flights and later on became a training center for the civilian pilot training program.
The Wild Bunch
Located in Tarrant County, at the intersection of Main Street and East 6th Street, this marker is erected in 2006.
Photographer John Swartz is notable for taking the only known portrait of the notorious Wild Bunch, also known as Fort Worth Five. The gang posed in John's studio in 1900 assuming after a few drinks since John's studio was along the red-light district "Hell's Half-Acre" which is known for its rowdy saloons and other illegal activities.
Unaware that the five young men were outlaws, Swartz posted the photo in his studio window and a detective recognized one of the men in the photos. Although the gang was in Fort Worth for two months, by the time the law enforcers issued the wanted poster, the elusive gang had moved on.…
Amon G. Carter
East side of Main between 5th & 6th Streets
Erected in 2006, the marker is located in Tarrant County on Main Street north of East 6th Street.
Amon Carter is known as the city's most vigorous civic booster. Born in 1879, he moved to Fort Worth in 1905 when he accepted a job as an advertising space salesman. A few months later, he financed and run a newspaper in a town called Fort Worth Star. On the brink of going bankrupt, Carter bought his newspaper's main competition, the Fort Worth Telegram for $100,000. The two newspapers combined were known as Fort Worth Star-Telegram and from then on until after World War II became the largest newspaper circulation in the South.
With his money and popularity, he became a national spokesman for Fort Worth and West Texas and popularized the phrase "Where the West Begins", the motto for Fort Worth, Texas.
First Christian Church of Fort Worth
Bronze marker was erected in 1970 and is located at the intersection of Throckmorton Street and West 6th Street
First Christian is the oldest church in Fort Worth founded in 1855. The current building was erected in 1914 on the site of the former location. Its first pastor was Rev. A.M. Dean.
Reverend Dean was followed as pastor by Dr. Hall, a dentist, and by Dr. Mansell Mathews, a judge, and physician of Red River County. Charter members were: Mr. and Mrs. James K. Allen, Mrs. Francis M. Durrett, Mrs. Alfred D. Johnson, Mr. and Mrs. Benjamin P. Ayres, Mrs. Florence Peak, Stephen Terry, and Mr. and Mrs. William A. Sanderson.
The Atelier Building
Located in Tarrant County, the bronze marker was erected in 1980 and is a property of the Texas state.
The name "Atelier" is a French word for an artist's studio. The building was developed by Thomas S. Weaver and its first occupant was a private bank, Hunter-Phelan Savings Bank & Trust Co, and Smith and Schenck, an architect's office on the second floor.
The architect of the building is unknown although it is believed to be Smith and Schenk. There was a time that the building was the temporary location for the Consumer Insurance Report office. Its notable features include two square chimneys in the front of the building with terra cotta ornamentation. In 1980, the building was purchased by Cameron Alread who restored it and returned the space to use as an architect's office.
In 2016, Barnett, Howard, & Williams, PLLC bought the building from Alread and converted it into their law office.
Cynthia Ann Parker
The bronze marker was erected in 2006 and is at the intersection of Main Street and 8th Street.
Cynthia Ann Parker, born October 28, 1827, was kidnapped from her home when she was around 10 by Comanche, a Native American war band. Parker was then adopted by the Comanches as their own and was later married to a Comanche chieftain. Living with the Comanche for 24 years, she forgot completely her white ways.
In 1860, Parker and her daughter were captured by Texas Rangers and returned to the Parker family who live in Fort Worth. She tried to escape at least once to return to Comanche but was again brought back to Texas. Parker's life was spent in sadness missing her life as a Comanche. She died due to self-starvation.
Cattle Drives
West side of Commerce & 2nd Streets
After the Civil War, people in Texas realized that an estimated 3.5 million free-roaming cattle scattered throughout the state were a valuable asset. Between 1866 and 1887, over five million head of cattle were rounded up to make the five-month, 800-mile trip through Texas to railheads in Kansas. Fort Worth, the last "civilized" stop before Indian Territory, became an important supply center. Driven by 10 or 12 cowboys, herds forded the Trinity and bedded down north of the river for a few days. In 1871, a reported 360,000 "beeves" were driven through Fort Worth along the Chisholm Trail (today's Commerce, Calhoun, Jones and Grove streets). The invention of barbed wire and the advancing railroad brought an end to the cattle drives, but with the stockyards and the growing number of area ranches in need of supplies, Fort Worth remained a "cowtown."
Hispanic Heritage
Main & Weatherford Streets
Fort Worth's Hispanic community dates to 1849, when cavalryman Anthony Mendez was among the first soldiers at the fort. Vaqueros (Hispanic cowboys) rode in cattle drives of the late 1880s. Fort Worth's earliest Hispanic residents were noted in the 1880 U.S. census. Political upheavals in Mexico in the early 1990s brought waves of immigrant families seeking work in the city's railroads, steel plants, stockyards meat packinghouses, hotels and restaurants. Latino neighborhoods (barrios) sprang up around these employment sites on the north, east, and south sides of downtown. Barrio family life revolved around school and church, with charitable organizations providing support to newcomers adapting to city life. Several restaurants, bakeries, grocery stores and other Hispanic businesses established in the early 20th century still operate today.
Streetcars & the Interurban
West side of Main between 3rd & 4th Streets
Main Street in December 1876. By 1889, horses and mule-drawn cars had been replaced by the first electric trolley line in the entire Southwest. Individual companies served the north, south, east, and west sections of the city, with each building its own tracks and electric power plants. By the 1920s, consolidation had reduced duplication of facilities. Streetcars were replaced by buses in 1940. The Northern Texas Traction Co., from its headquarters in the building on this corner, began interurban service between Fort Worth and Dallas in July 1902. Passengers were transported between the two cities for 32 years. Affordability of the automobile and improved highways weakened ridership, bringing an end to this transit service in December 1934. The Trinity Railway Express introduced daily commuter rail service connecting Fort Worth and Dallas in December 2001.
Fort Worth Chamber of Commerce
East side of Houston between 3rd & 4th Streets
The Fort Worth Chamber of Commerce traces its history to 1882 when the Fort Worth Board of Trade first organized. During the early years, local business leaders promoted Fort Worth as the "queen city of the plains." The beautiful 1888 red sandstone Board of Trade building at 7th and Houston was home to the Board of Trade for several years. In 1900, Capt. B.B. Paddock and other business leaders reorganized and revitalized the Board of Trade, which then helped attract the Armour and Swift companies to the Fort Worth Stockyards in 1902.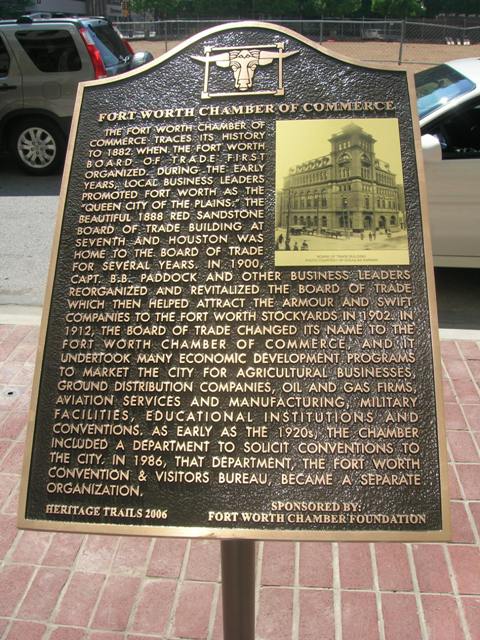 In 1912, the Board of Trade changed its name to the Fort Worth Chamber of Commerce, and it undertook many economic development programs to market the city for agricultural businesses, ground distribution companies, oil and gas firms, aviation services and manufacturing, military facilities, educational institutions and conventions. As early as the 1920s, the Chamber included a department to solicit conventions to the city. In 1986, that department, the Fort Worth Convention & Visitors Bureau, became a separate organization.
Chronology of Heritage Trailer Markers
April 23, 1990 Doug Harman "vision" letter
Nov. 19, 1990 Memo sent to Central Area Council concerning Doug Harman letter on "Downtown Riverwalk"
June 27, 1991 Task Force formed
Nov. 3, 1991 Grant application filed with the National Trust for Historic Preservation ($1,880)
Feb. 27, 1992 Fund raising for study with Harrison Jenkins begins
1998 Harrison Jenkins report complete
March 2001 Deran Wright commissioned to design bronze sculpture of sleeping panther
December 2002 Sleeping Panther bronze sculpture dedication on Tarrant County Administration Building lawn
2003 Downtown Design Review Board suggests new marker design approach
December 2004 – Downtown Design Review Board approves moving ahead with new approach to downtown heritage marker system
2005 Sidewalk marker copy written, edited and graphic images collected
Jan.- Aug. 2006 Sidewalk marker vendor chosen, design begins, marker location finalized
November 2006 First sidewalk marker, "The The Stage Leaves from Here," sponsored by Wells Fargo, is dedicated
Map of Fort Worth Heritage Trailer Markers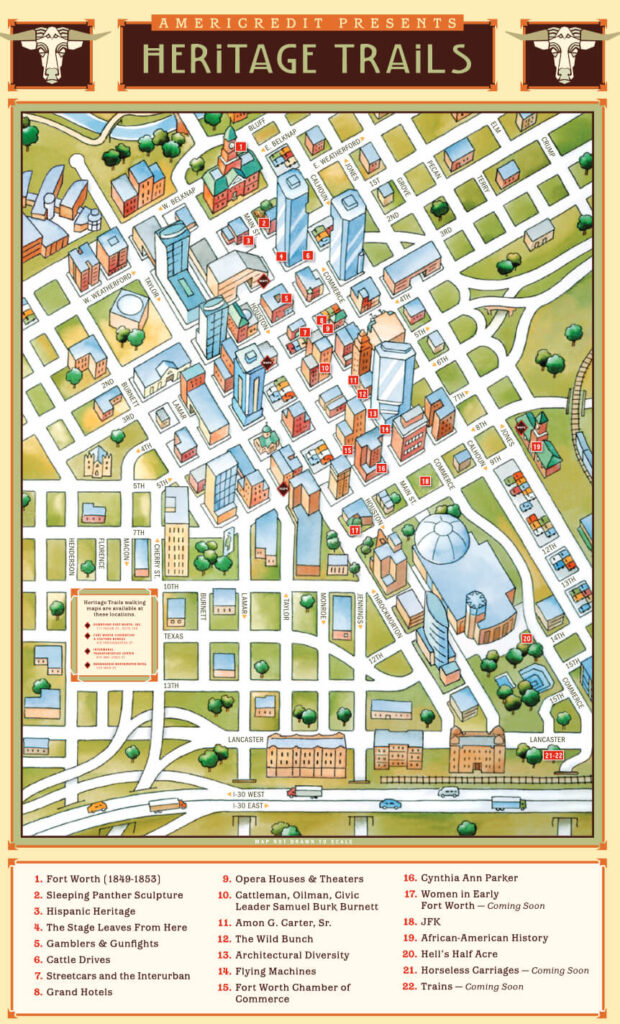 Heritage Trails walking maps are available at these locations
Downtown Fort Worth, Inc. 777 Taylor St., Suite 100
Fort Worth Convention & Visitors Bureau 508 Main St
Intermodal Transportation Center 9th and Jones St.
Renaissance Worthington Hotel 200 Main St.
BIBLIOGRAPHY
References: Fort Worth History
Alter, Judy. The Comanches. Franklin Watts. New York. 1994.
Cohen, Judith. Cowtown Moderne: Art Deco Architecture of Fort Worth, Texas. Texas A & M Press. College Station. 1991.
Cuellar, Carlos E. Stories from the Barrio A History of Mexican Fort Worth. TCU Press. Fort Worth. 2003.
Gard, Wayne. The Chisholm Trail. University of Oklahoma Press. Norman. 1979.
Garrett, Julia Kathryn. Fort Worth A Frontier Triumph. Texas Christian University Press. Fort Worth. 1996.
Hacker, Margaret Schmidt. Cynthia Ann Parker: The Life and the Legend. Texas Western Press. El Paso. 1990.
Jones, Jan Renegades, Shownem & Angels: A Theatrical History of Fort Worth 1873-2001. TCU Press. Fort Worth. 2006
Knight, Oliver. Outpost on the Trinity. University of Oklahoma Press. Norman. 1953.
Newcomb, W. W. Jr. The Indians of Texas. University of Texas Press. Austin. 1961.
Oates, Paula, Editor. Celebrating 150 Years The Pictorial History of Fort Worth, Texas 1849 — 1999. Landmark Publishing, Inc. Fort Worth. 1999.
Pate, J'Nell. Livestock Legacy: The Fort Worth Stockyards 1887-1987. Texas A & M University Press. College Station. 1988.
Pate, J'Nell. North of the River: A Brief History of North Fort Worth. Texas Christian University Press. Fort Worth. 1994.
Perkins, Clay. The Fort in Fort Worth. Cross-Timbers Publishing Company. Keller, Texas. 2001
Pirtle, Caleb III. Fort Worth The Civilised West. Continental Heritage Press for the Fort Worth Chamber of Commerce. 1980.
Roark, Carol and Byrd Williams. Fort Worth's Legendary Landmarks. Texas Christian University Press. Fort Worth. 1995.
Selcer, Richard F. The Fort That Became a City. Texas Christian University Press. Fort Worth. 1995.
Selcer, Richard F. Hells's Half Acre. Texas Christian University Press. Fort Worth. 1991.
Sherrod, Katie, Editor. Grace & Gumption Stories of Fort Worth Women. Texas Christian University Press. Fort Worth. 2007.
Wallace, Ernest and Hoebel, E. Adamson. The Comanches: Lords of the Southern Plains. University of Oklahoma Press. Norman. 1986.
Worcester, Donald Emmett. The Chisholm Trail: High Road of the Cattle Kingdom. University of Nebraska Press. Lincoln. 1980.