Quick Mexico City Things to do & see
On our flight back from Costa Rica, we had a quick layover in Mexico City. Even though we only had about 5.5 hours on the ground, we headed into Zocalo (the city center) and did as much sight-seeing as we could. We visited a few churches, walked through the ruins of a very old Aztec temple, saw some beautiful architecture, and even had time to get some authentic Mexican tacos at a small taqueria. Below are some of the highlights from our layover in Mexico City and our quick trip into the city to do some sight-seeing.
We decided that we would take the time on the ground to go out and see another city for essentially no travel expenses.
I did quite a bit of reading about Mexico City which started to make me question my decision of going out and exploring the city. I kept reading about kidnappings and violence. Luckily there were some travel blogs that made me feel comfortable with our initial decision to venture out. In the end, although there are some bad things that happen in Mexico City, that is a concern for any tourist traveling to a large city.
After we left our luggage in a locker we headed to the taxi stand.
One thing that I kept reading about over and over again in my Mexico City research was taxi scams. Everything from the minor like gringo prices for foreigners to the extreme of passengers being robbed when a cab stops in traffic. All sources said to get a government regulated cab, which is minimally more expensive, but the safest option. The taxi itself by Dallas standards was very cheap. The 30 minute or so ride from the airport to city center was only $15. A convenient thing about the government regulated cabs, is that you pre-pay at the taxi stand inside the airport – no need to pay the taxi driver directly.
Things to do during a long layover in Mexico City
We were dropped off at Zócalo, the city center as everything that we planned to see from there was within walking distance. It was just after New Year's Day and the city center had an ice skating rink and tubing hill set up in the city center. We hadn't really thought about it, but it made sense to have something like this available since kids that grow up in warm climates don't get to have all the snowy fun that we did growing up.
Right next to Zócalo is the National Palace. Other than taking a few pictures, there was nothing really noteworthy about this building.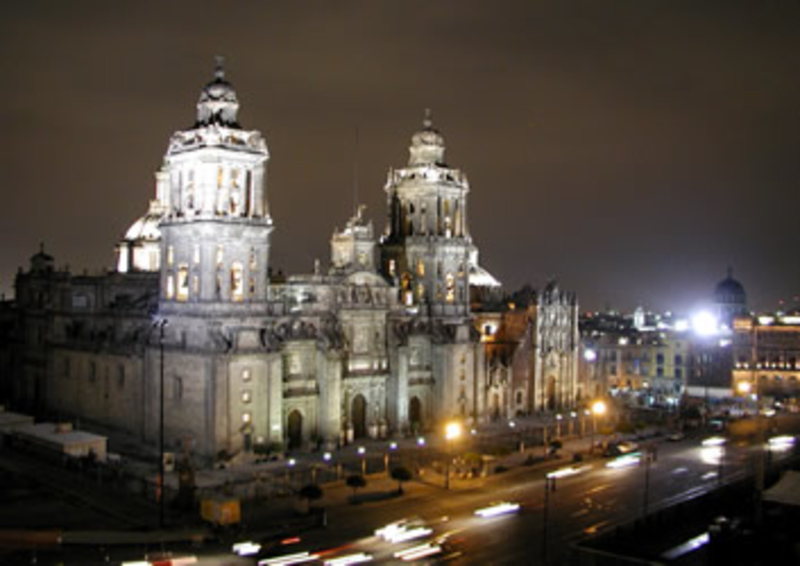 After that we headed over the the Mexico City Metropolitan Cathedral. It is the oldest and largest cathedral in all of Latin America, built in the 16th century. I have seen many cathedrals in my travels to Europe, but the sheer size of this cathedral is amazing. There were many vendors outside of the church had we been in the market to buy souvenirs for family and friends.
From there, we searched for the ruins, one of the things that we most looked forward to seeing. We knew where they should have been, but had not made the connection that they were part of Museo del Templo Mayor. After a $5 admission, we were able to walk through the ruins which were really cool. Even though there were a lot of people there, it never seemed really crowded. If we had more time, we could have walked through the museum itself. The only thing that I didn't like was that we had to leave our water bottle on a shelf before going into the ruins. I had filled up my reusable water bottle in Costa Rica so we didn't need to purchase water there and was worried it may get taken. My worry was unjustified as it was still there when we left.
The next stop was Iglesia de San Francisco a church that although pretty, was not overly impressive after we had just seen the Metropolitan Cathedral. After a few pictures, we were off to the Palacio de Bellas Artes (Palace of Fine Arts). Although we didn't have time to go walk through, we wanted to check out the building as it had beautiful architecture. Had the weather been worse than it was or if we had more time, we would have liked to walk through and enjoy some of the art.
My roommate from my study abroad who is Mexican gave me a few tips for my trip to Mexico City. One of her tips was to get a government regulated taxi at a hotel. We used this strategy after the Palace of Fine Arts, our final stop before we had to head back to the airport. It was super easy and put us at ease as we felt safe knowing that the likelihood of getting scammed was much lower. Another tip she gave was to not wear flashy jewelry or clothing. We left my engagement ring at home as we didn't want to draw attention when we were in Costa Rica or Mexico City. Our clothing was built for comfort, since we had a very early morning flight and long day of travel ahead of us.
Overall, we really loved our long layover. We were on the ground for 9 hours and were able to sight-see for 5.5 hours. This allowed us time to get to our bag dropped off in the locker, transit to/from the airport and through security in plenty of time to catch our flight. We never felt unsafe and were able to explore a city that we normally would have not visited. In fact, we liked the long layover in Mexico City so much, we are actually doing 2 long layovers on our honeymoon. Even though our Spanish is not great, we never had any issues getting around and everyone was very friendly to us.
Luggage Lockers at Mexico City Airport
I did some searches about long layovers in Mexico City and found out that there were luggage lockers available for rent at the airport. We were extremely excited about this as we could put everything that we didn't need in safekeeping, just in case something were to happen while we were out exploring the city.
In order to minimize the amount of baggage that we had to deal with, we checked both of our suitcases. Once at the Mexico City airport we went through our remaining carry-on items and put anything unnecessary into our backpack for safekeeping in the locker. The luggage lockers were located at the front of Terminal 2 parallel to the street level pickup/drop off zone. After asking for some help, we found the lockers.
The man working the luggage locker station at Terminal 2 was extremely rude and it was quite evident that he was not willing to help us because we were foreigners. He said that all the lockers were full to which I pointed out that there were keys in the lockers so they were not occupied. After saying that he started to remove the keys from the lockers and said that all the lockers were reserved. I again pointed out that there was nowhere to reserve the lockers because I had actually looked for that online. For whatever reason he was unwilling to budge and continued to hold his ground. Growing extremely frustrated, we grabbed a translation agent to help us with the situation. We were in total shock as someone retrieved their bags and the man proceeded to give the "only free locker" to a native couple that was standing behind us.
The translation agent was just as perplexed as us, not understanding why the locker worker was acting in such a way. She mentioned that there was another luggage locker facility in Terminal 1 which was a 15 minute tram ride away. Frustrated but without another option except for taking our valuables all over town with us, we hopped on the tram and headed to the other luggage locker facility.
Much to our surprise, the agent there was extremely pleasant and very helpful. We had our bag in the locker and we were off to the city in no time.