Dallas Neighborhoods: Preston Hollow
If you're looking for the wealthiest residents of Texas, you'll find them in Preston Hollow located north of the Park Cities. The area also has the priciest homes in the state. As such, this area is distinguished by various dynamic shopping centers such as North Park Center, Highland Park Village, and Galleria Dallas. In the northeastern part of the city, you'll find Lake Highlands which is the most unified middle-class neighborhood in Dallas.
Luxury Living and Services
Preston Hollow is a sprawling, exclusive neighborhood situated just north of Dallas, in the Dallas-Fort Worth metropolitan area. Because of its geographic proximity to the center of the city… LOCATION, LOCATION, LOCATION, Preston Hollow is one of the most highly sought-after areas. Lot values in Preston Hollow range in value from approximately $575K to just under $10M, a multi-acre parcel on prestigious Strait Lane.
Preston Hollow is home to some of Dallas' most well-known residents. Former President George W. Bush and his wife Laura purchased a home in Preston Hollow. Margot and Ross Perot are residents of Strait Lane. There is a strong emphasis on luxury living, and the community provides a number of services that wouldn't normally be found in a residential area. As the ideal location for people commuting downtown or into the city, residents enjoy many aspects of living in Preston Hollow that make it so unique and appealing.
Architecture and Cultural Events
Driving through Preston Hollow is like taking a class in grand southern architectural styles. Famous architects such as Charles Dilbeck, Harwell Hamilton Harris, Howard Meyer, and Frank Lloyd Wright have graced Preston Hollow real estate with their architectural designs. Located only eight miles from downtown Dallas, this community gains the benefits of being a short drive away from a plethora of cultural and recreational entertainment. The Dallas Symphony, Shakespeare Festival, Dallas Food and Wine Festival, and the Deep Ellum Arts Festival are just a few of the many events that take place minutes away from Preston Hollow.
Family-Friendly Environment
Preston Hollow is a fantastic place to raise a family, as it provides an immense level of comfort coupled with a serenity one wouldn't expect to find a mere 10-minute drive from downtown Dallas. Preston Hollow exudes an aura of tranquility, with large, sweeping estates, wildlife, and trees spanning acre upon acre. Students living in the neighborhood are served by the Dallas Independent School District as well as by some of the best private schools in the state. The Hockaday School, an all-girls day and boarding school ranked as one of the top three learning institutions in the country, it's brother school, St. Mark's School of Texas, is all boys, Episcopal School of Dallas, Jesuit College Preparatory, also known as Dallas Jesuit, and its sister school, Ursuline, an all-girls Catholic school, and Shelton School are just a few of the renowned private institutions available. Southern Methodist University is also located in nearby Park Cities for students looking to continue their education.
Homes and Architecture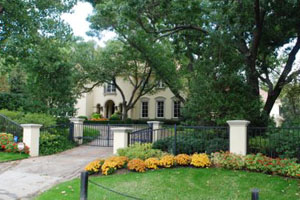 Perhaps the most appealing things about Preston Hollow are its homes. These single-family estates border on extravagant, and are very reminiscent of mansions. There are all kinds of architectural styles available, from French replicas to mid-century modern. Preston Hollow is more or less known for its air of luxury as well as the extreme comfort and wealth embodied by its huge estates. If you're in the market for a large home in Texas, especially near Dallas, Preston Hollow offers some of the most attractive pieces of real estate available in the entire state.
Location and Accessibility
Preston Hollow is served by a number of other amenities that make life even easier for its residents. Dallas residents are big fans of eating out, and there are countless restaurants that boast every cuisine from local specialties to exotic dishes. Tex-Mex, barbeque, French, Vietnamese, Thai, and steakhouses are only a few of the scrumptious options available. Residents are also close to numerous shopping centers that provide a variety of goods, from groceries to computer hardware. Neighbors take an active role in preserving the charm of their community and welcoming new residents with warm hospitality. The newest residents of Preston Hollow are former President George W. Bush and First Lady Laura Bush. If you're looking for a fantastic place to live in luxury, Preston Hollow has much to offer you.
Attractions and things to do in Preston Hollow Dallas
Preston Hollow is a well-known residential neighborhood in Dallas, Texas. While it is primarily a residential area, there are still plenty of attractions and things to do in and around the neighborhood. Here are some suggestions:
Visit the George W. Bush Presidential Library and Museum
Located on the Southern Methodist University campus, George W. Bush Presidential Library and Museum offers visitors a chance to learn about the presidency of George W. Bush.
Explore the Dallas Arts District
Dallas Arts District is the largest arts district in the United States, featuring several world-renowned museums and performance venues.
Check out the Dallas Farmers Market
Dallas Farmers Market is a popular spot for locals and visitors alike, featuring a variety of fresh produce, artisanal foods, and handmade goods.
Visit the Dallas Zoo
Dallas Zoo is a large and well-known zoo that features a variety of animals from around the world.
Go shopping at NorthPark Center
This is a high-end shopping mall that features over 200 stores, restaurants, and an art collection.
Visit the Texas Horse Park
Texas Horse Park is a great spot for horse lovers, featuring guided trail rides, riding lessons, and other equine-related activities.
Explore the nearby Katy Trail
Katy Trail is a popular trail for walking, jogging, and biking that runs through the heart of Dallas.
Attend a performance at the Morton H. Meyerson Symphony Center
This is a world-class performance venue that hosts a variety of concerts, plays, and other cultural events.
Overall, Preston Hollow is a great neighborhood to explore and offers a variety of activities for visitors and residents alike.
Summary
Homes and Architecture

Extravagant Single-Family Estates
Variety of Architectural Styles Available (French Replicas, Mid-Century Modern, etc.)
Known for Air of Luxury and Extreme Comfort

Location and Accessibility

Highly Sought-After Area
Short Drive Away from Cultural and Recreational Entertainment (Dallas Symphony, Shakespeare Festival, etc.)
Ideal Location for People Commuting Downtown or into the City

Education

Students Served by Dallas Independent School District and Top Private Schools in the State (Hockaday School, St. Mark's School of Texas, etc.)
Southern Methodist University is Located Nearby in Park Cities

Amenities and Services

Countless Restaurants Serving Every Cuisine Imaginable
Numerous Shopping Centers Provide a Variety of Goods
Strong Emphasis on Luxury Living
Neighbors Take Active Role in Preserving Charm of Community and Welcoming New Residents

Notable Residents

Former President George W. Bush and First Lady Laura Bush