American Airlines Center – Dallas, Texas
This building of brick, limestone, and granite accented with the signature arches is the welcoming sign of the city to its citizens.  There are four entrances to the building, one on each side of the building with the north and south ends of the building showcasing their dramatic outdoor balconies at the Platinum Level where you can get a spectacular view of downtown.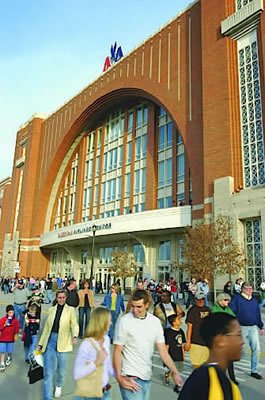 This facility is the home to the Desperados, Mavericks, and Stars and there are other concerts held here. The Mavericks are an NBA team that came to Dallas in 1980. The Desperados are members of the Arena Football League.  Tickets to these events are at a price that everyone can afford at just $12 for the terrace level. The Stars moved to Dallas from Minnesota and are one of the top National Hockey League teams offering fabulous hockey for everyone.
The box office for the American Airlines Center at the Northside is a walk-up facility only and is open Monday through Saturday 10 – 5 and during the events.  You can also get tickets online at Ticketmaster.  Doors open for the events one and a half hours prior to each event.
The seating at the stadium is unique since it is designed to give fans great sightlines by being as vertical as possible which makes the views for basketball, hockey, arena football, and concerts better.
There are tours available for the public to go behind the scenes and see the inner workings of this industry.  There are educational and interactive experiences, you will be able to visit the press box, a luxury suite, party rooms as well as other facilities in the building, and if scheduling permits you will be able to visit a team locker room.
Individual tours are scheduled for non-event Mondays, Wednesdays, and Fridays at 10:30 to 1, based on availability.  Reservations can be made up to 3 months in advance with a minimum of 1 week's notice.  Of course, there are no tours scheduled on holidays or on NBA and NHL Playoff game days.  Tours are subject to cancellation.
To schedule a tour call 214-665-4213.
Tour prices are adults at $4, Seniors (65 +) $3, and children 3 – 17 are $3.  There is free parking located on Lot F, directly across from the north entrance of the arena on All-Star Way.
Driving directions:
American Airlines Center is located in Victory Park at 2500 Victory Ave, Dallas, Texas. Just north of Dallas' Central Business District and the historic West End. American Airlines Center has convenient access to major freeways and public transportation.
From The Northwest
Travel South I-35E (Stemmons Freeway) toward downtown Dallas
Exit 429B to Continental Avenue
Turn left back under the freeway onto Continental Avenue
Left on Houston
From The South
Travel I-35E North (Stemmons Freeway) to Denton
Exit 429C to Victory Ave/Hi-Line Dr
Right on Victory Avenue
From The West / Fort Worth
Travel I-30 East
Exit 45A to Denton to I-35 North to Denton
Exit 429C to Victory Ave/Hi-Line Dr
Right on Victory Avenue
There are approximately 5,300 parking spaces for the American Airlines Center.  Most of these are located conveniently located within 2 blocks.  There are over 3,000 parking spaces to the south and east of the center within easy walking distance.
Grilling, open flames, food preparation, and consumption of alcoholic beverages are not permitted in any of the parking areas of the center so if you are planning to do some tailgating you will need to find a different location.
An ideal location to drop off and pick up guests is on the street called Valor Place, which is located on the west side of American Airlines Center. Valor Place is only a few steps from the West Doors of American Airlines Center, with easy access to all levels of the building.
Buses, limousines, taxis, and personal vehicles may drop off and pick up guests here.
Valor Place runs north from Olive Street and exits onto Victory Avenue.