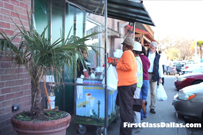 Fuel City Tacos
Fuel City was born on December 7, 1999. Ever since then it has provided Dallasites with inexpensive gas, ice cold beer, longhorn steer, and even a swimming pool (Sorry folks, its just for looks-no swimming allowed!). I-35 and Riverfront Blvd (Formerly Industrial Blvd) directly south of downtown Dallas Fuel City tacos have developed quite a following around town. The simple, traditional soft tacos have received numerous awards, including "Best In Dallas" by D Magazine and "Best In Texas.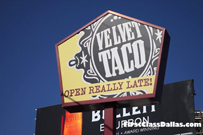 Velvet Taco
Okay… so our taco may not really change the entire world but its pretty freakin great. Maybe it just brings a little happiness to the world and that changes the world a little every day. PS – Cool things about the world inside Velvet Taco: we make our own tortillas, slow roast our own chicken and corn, and make everything from scratch which makes our food taste really awesome. We use fresh fruit and sorbets in our margaritas and sangrias… also awesome. Oh and we recycle. Come in and see us….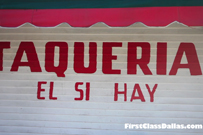 Taqueria El Si Hay
Taqueria El Si Hay – is the BEST place to get some street tacos. I cant believe this place. I LOVE IT… so much so.. that we went back to the place twice in the same day. Lunch and Dinner… I love their RED HOT SAUCE and the GREEN HOT SAUCE… 🙂 Incredible! Across the street from the Bishop Arts District…You will definitely wait in line. This tiny building puts out great street tacos like an epidemic!! If you never tried "elote" – fresh corn on the cobb with a mixture of delightful ingredients.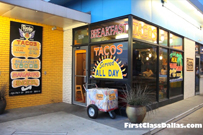 Rusty Taco
We are here for all of your Taco needs! Whether you are craving mouth-watering brisket tacos or looking for a breakfast taco to start your day, we have it all! Nice variety of regular & breakfast tacos, most for an even $2. Most of them feature simple & classic ingredients. Of the regulars, my favorites are the Roasted Pork w/ cojita & pickled onion and the Texican which is loaded with ground beef… I add an avocado slice for .25. For veggie option, I enjoy the Black Bean Taco.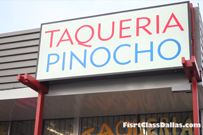 Taqueria Pinocho
Taqueria Pinocho is located conveniently off Abram and Carroll Ave in a small shopping center, known as one of Dallas's authentic taco shops. Taqueria Pinocho was my first introduction to taquerias in the Dallas area thanks to a good friend of mine. So I found it fit of course to do my first taco visit for craveDFW. Pinocho has been open for years now and is owned by Francisco Gomez. Although, the location is not in one of Dallas.s best neighborhoods.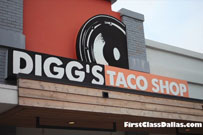 DiggsTaco Shop
LOVE DIGGS TACOS!! Obviously they are no original homemade taco truck, they are more on the American-taco side, so besides trucks… They have THE BEST shrimp tacos! I love love love love their tacos. My boyfriend is Hispanic so he would know all about Hispanic food, and he completely dies for Diggs tacos. We always get their combo. You choose two tacos, and two sides for $7!! Everyone is so friendly there since it is student friendly on a college campus. They always have cheap drafts!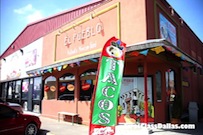 El Pueblo Mexican Restaurant
The lean barbacoa and crackerjack carnitas are why taco enthusiasts should grab a booth and a Coca Mexicana at this East Jefferson haunt. El Pueblos traditionally prepared carnitas (braised and fried in its own fat) is the best Ive found in North Texas. Crunchy, salty, and silken, the taco is a sight to behold with mahogany, sienna, and black threads running through the shredded pork. Exceptional lengua tastes of the same fat that elevated its porcine companion.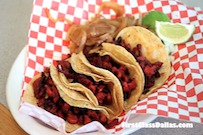 MiTierrita Taqueria y Pupuseria
Once known as El Cebolla, the strip-mall restaurant, across the street from dive bar Tradewinds Social Club, had a new name seemingly overnight but retained its old signage that's since been replaced. Whatever the quality of previous incarnation's fare, Mi Tierrita is a whiz-bang place, serving street taco gems like tacos al vapor (steamed) filled with mashed potatoes and cascabel chiles as well as fantastic regional specialties such as piratas and campechanas.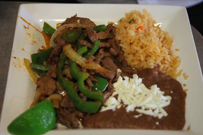 El Tacontento Tacqueria
I got to experience this awesome place thanks to my co-workers! I dont know what authentic Mexican tacos taste like, but these are just awesome. Its like a special gem hidden in a rundown shopping center. I love their barbacoa and al pastor tacos! They also have three different sauces to pour over your yummy tacos. The best thing is that its super cheap and it really fills you up with just 2! I really recommend this place to anyone who is hungry for some tacos. …