Traveling to Dallas for business doesn't have to be all work and no play. The city has luxurious hotels ready to offer visitors a first-class experience. Whether you're looking for the perfect spot to host a client meeting or a place to relax after a long day of meetings, here are some of the top Dallas hotels for luxury business travel. No matter your needs, Dallas has something for everyone when it comes to luxury business hotels. With these top picks, you can rest assured that your next trip to Lone Star State will be both productive and enjoyable.
Rosewood Mansion on Turtle Creek
Address: 2821 Turtle Creek Blvd, Dallas, TX 75219; Phone: (214) 559-2100
The Rosewood Mansion on Turtle Creek is another excellent option for business travelers who want to experience luxury in Dallas. Located in Uptown, this stunning property boasts elegant rooms and suites, fine dining restaurants, stunning gardens, and views of Turtle Creek. The hotel also offers a full-service spa and fitness center where guests can relax and unwind.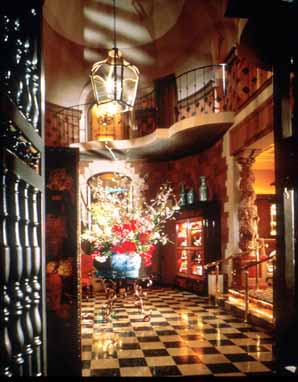 The Mansion on Turtle Creek is an elegant restaurant and bar with an adjoining nine-story hotel tower. The mansion sits on 4.3 acres of land and has 143 guest rooms, including 15 suites. The Mansion on Turtle Creek is north of downtown Dallas only five minutes from the city's central business district. Once the palatial estate of Sheppard King, who made his fortune in the cotton industry, the Mansion on Turtle Creek is the only hotel in Dallas to have a Five-Diamond AAA rating. The Mansion Restaurant is one of only two restaurants in Dallas to receive the Five-Diamond AAA rating. Both the hotel and restaurant have received Five-Diamond Awards every year since 1991.
Located three miles north of downtown Dallas, the Mansion on Turtle Creek is five minutes from the central business district and the historic West End's shopping and nightlife. Nearby attractions within five miles of the hotel include The Sixth Floor Museum, the JFK Memorial, the Dallas Museum of Art, Reunion Tower, Reunion Arena and the Convention Center. Texas Stadium, home of the Dallas Cowboys, is located eight miles northwest in the city of Irving. The Ballpark (home of the Texas Rangers), Six Flags over Texas and Hurricane Harbor are located 20 miles southwest of the hotel in the city of Arlington. Dallas- Fort Worth Airport is approximately 20 miles away and Dallas Love Airport is located five miles away. The Stockyards National Historic District in Fort Worth is 38 miles away.
The Mansion on Turtle Creek has 143 spacious guestrooms with custom furnishings. Each of the 450-square-foot rooms includes a comfortable sitting area, marble bath with a separate vanity, a large closet, a full-length mirror, armoire, desk or easy chair and ottoman, butler chair table, and love seat. Forty-two of the rooms include an oversized marble bath with a sunken tub, glass-enclosed shower, and double sinks.
Hotel Palomar Dallas – a Kimpton Hotel
Address: 5300 E Mockingbird Ln, Dallas, TX 75206; Phone: (214) 520-7969
Hotel Palomar Dallas – a Kimpton Hotel is a four-diamond luxurious hotel which is positioned just a block from the main shopping and entertainment of Mockingbird Station, Southern Methodist University, and a Dallas Area Rapid Transit (DART) rail station, which helps tourists access directly downtown major venues, like the Dallas Museum of Art and American Airlines Center. The major attractions of this hotel are the complimentary evening wine hours, lobby lounge, personalized spa treatments, and therapies comprised of core synthesis toning classes at Exhale Spa, Central 214's, which dish up delicious American regional cuisine in a fine dining background. It is a nine-story building with over two hundred luxurious rooms with amenities like Fête luxury linens, minibars, video game consoles, and L'Occitane toiletries for guests to relax & enjoy their stay at this hotel. The 24-hour business center offers computers and complimentary wireless Internet access. Another amazing feature of this hotel is the rooftop infinity pool, and the state-of-the-art fitness center offers sights of the beautiful Dallas city skyline.
Hotel Lumen – a Kimpton Hotel
Address: 6101 Hillcrest Ave, Dallas, TX 75205; Phone: (214) 219-2400
Hotel Lumen is one of the plush hotels in Dallas, Texas, and has a vibrant retro feel along with the Mid-Century design, which has been carried throughout the hotel. It is just a few blocks from Southern Methodist University, world-class fashion shopping arenas such as Highland Park Village and Snider Plaza and Dallas' Arts District, the Nasher Sculpture Center, and Myerson Symphony Hall. The hotel has a sophisticated setting that provides classy amenities like a restaurant and lounge where guests can enjoy delicious cuisine offered each evening through room service. It also has three spacious meeting rooms to organize business meetings, social events & university functions. Some of the preferred neighborhood entrees include Brie macaroni and roasted halibut, complimented by the homemade blueberry brioche or raspberry mango trifle for dessert, to name a few. All the rooms at this hotel are spacious & have a sleek décor with blue and burnt-orange hues. Some main features guests can enjoy at this boutique hotel are a plasma TV, a safe box, luxurious linen, high-speed complimentary internet access, DVD & CD players, separate living & dining areas, and much more.
Omni Dallas Hotel Park West
Address: 1590 LBJ Freeway, Dallas, Texas 75234; Phone: (972) 869-4300, Fax: (972) 869-3295
The Omni Dallas Hotel at Park West is an exceptional choice for business travelers who want comfort and convenience. Situated just minutes from major corporate headquarters and cultural attractions, guests can enjoy spacious guestrooms, an outdoor patio bar, a complimentary shuttle service within 3 miles, and much more.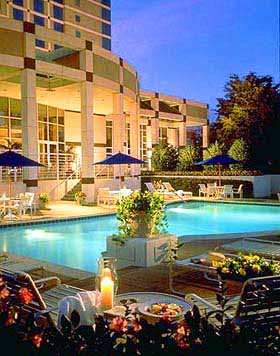 The Omni Dallas at Park West consists of 12 stories and a total of 337 guest rooms, and 21 suites. The amenities included are remote control, color, cable, satellite TV with built-in radio alarm, two telephones with data port adapters, alarm clock, in-room movies, honor bar, hair-dryer, iron and ironing board, bath amenities, individual climate control, full-length mirror, oversized desk with laptop power/data connection ports, multi-line telephone, in-room refreshment centers, laundry/dry-cleaning service, feather and foam pillows available, complimentary coffee and coffee maker. The guest rooms range in size between 338 to 390 square feet.
The Executive Business Class Rooms are located on the 11th and 12th floors with keyed access, in-room coffee maker, 2-line phones with data ports, speakerphone, large work desk, plush bathrobes, feather pillows, foam pillows on request, nightly turndown services with chocolate amenity, complimentary incoming and outgoing faxes and copy services available through the front desk by touching 0. Complimentary delivery services are available to and from your guest room, and administrative services are available through the executive Offices, located in the lobby. There are also Junior and Parlor Suites available
Warwick Melrose Hotel, Dallas
3015 Oak Lawn Avenue, Dallas, TX 75219, Tel: +1 214 521 5151 Fax: +1 214 521 2470; Website: www.warwickmelrosedallas.com
It is a four-star diamond hotel that was built in the year 1924 and is known for its fabulous services offered here, such as more than a hundred luxurious rooms, which also comprises of suite & a presidential suite for guests to stay, European marble flooring, full-length terry cloth robe, hairdryer, two-line speakerphone, personalized voice mail, cable television and more.
The hotel also provides a beautiful & mesmerizing view of the city and is located in the Uptown Oak Lawn and Turtle Creek area; the hotel is a few minutes from Love Field Airport and D/FW International Airport, the main International airport in Dallas. The hotel is surrounded by major tourist destinations such as the popular Market Center, Downtown, the Convention Center, the West End, and McKinney Avenue, some of the entertainment areas in Dallas.
Hilton Anatole Hotel
Address: 2201 Stemmons Freeway, Dallas, Texas, United States 75207; Tel: 1-214-748-1200 | Fax: 1-214-761 7520; Website: www.hilton.com
The Anatole Hilton is located only minutes from the Dallas Market Center in downtown Dallas. Just 30 minutes from the DFW International Airport, only steps from shopping at Nieman Marcus and the Northpark Center, close to Dallas' nightlife Alley and West End, Dallas Symphony, and the Dallas Museum of Fine Arts, and only 3 miles from the recently expanded Dallas Convention Center.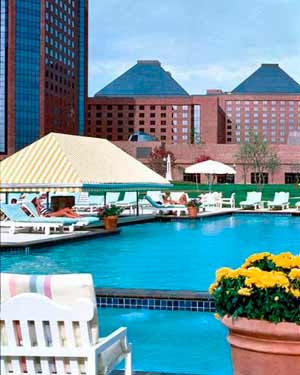 The Hilton Anatole Hotel is located on 45 acres just north of the downtown business district, which includes two heated indoor swimming pools, one outdoor swimming pool, and a private seven-acre Anatole Sculpture Park with jogging trails, fish pond, and tennis courts. The Anatole Hilton of Dallas offers over 344,000 square feet of banquet and meeting accommodations and full-service in-house audio/visual and business center services. The Anatole Hilton of Dallas is the flagship of hotel choices in Dallas.
The Adolphus was built in 1912 by Missouri beer baron Adolphus Busch after whom the hotel was named. It is one of the critic's acclaimed hotels that have called this hotel one of "the most beautiful buildings west of Venice." It has undergone a renovation of around $80 million worth of enhancements. All the staff in this hotel follows strict & rigorous standards to provide world-class hospitality & warmth to all its guests. Even today, the hotel portrays its rich historic finery & offers amazing features like attractive and flexible meeting and event space with an award-winning dining experience that serves an international menu adapted to contemporary American tastes. It has around 422 guest rooms, including sixteen luxurious suites, but the French room is indisputably the most amazing & outstanding room in Dallas.
The Anatole Hilton offers 1,476 luxury guestrooms and 130 spectacular suites. There are three Executive floors and the private Executive Lounge. The guest accommodations include high-speed internet access, Hilton Serenity Collection bedding, Crabtree & Evelyn bath amenities, complimentary USA Today newspapers, On-Demand television and entertainment, Video Check-Out, e-mail receipt, coffee maker with coffee, double vanity, iron and ironing board, hair dryer, cordless two-line speakerphones, personal in-room safe, 24-hour in-room dining and Hilton Honors members award program.
Hyatt Regency Dallas
Address: International Parkway, P.O. Box 619014, DFW Airport, Texas, USA 75261; Phone: +1 972 453 1234
Reunion Tower's geodesic dome dominates the Dallas skyline. The Hyatt Regency Hotel adjoins this landmark 50-story attraction. The hotel completed a $72 million expansion and renovation in 2000 to maintain its position as a major convention facility and tourist attraction. The Hyatt Regency Dallas has 1,122 rooms and 160,000 square feet of meeting space. The hotel also has an underground connection to Union Station and offers guests convenient access via light rail to various parts of the city.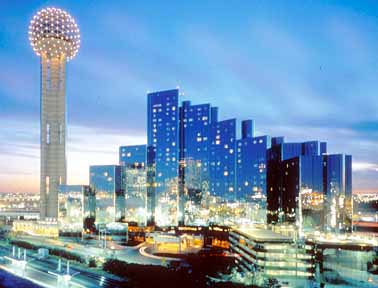 Guests have several dining and nightlife options within this huge downtown complex. A popular stop is the revolving Antares
restaurant and The Dome bar atop Reunion Tower. Patrons enjoy scenic 360-degree views of Dallas as the room continually rotates and completes one revolution every 45 minutes.
Located in the historic West End of downtown Dallas, the Hyatt Regency adjoins the landmark 50-story Reunion Tower. Shopping and nightlife attractions, including the West End Marketplace, Dallas Alley, and Planet Hollywood, are all within six blocks of the hotel. The convention center, the Federal Building, the JFK Memorial, and the Sixth Floor Museum are also within six blocks of the Hyatt Regency. The new American Airlines Center, home of the NBA's Dallas Mavericks and the NHL's Dallas Stars, is about one mile from the hotel. The Cotton Bowl at Fair Park is six miles from the hotel. Texas Stadium, home of the Dallas Cowboys, is located ten miles away in Irving. The Ballpark (home of the Texas Rangers), Six Flags over Texas, and Hurricane Harbor are located 18 miles from the Hyatt Regency in Arlington. Dallas-Fort Worth Airport is approximately 20 miles away, and Dallas Love Airport is about eight miles away.
The Hyatt Regency in Dallas has 1,122 guest rooms, including 41 suites. Guest room amenities include telephones with voice mail and data ports, hair dryers, irons, and ironing boards. Business Plan rooms feature an executive work area with enhanced lighting, a fax machine, a desk phone, and 24-hour access to a copier and printer. Business Plan guests also receive a complimentary continental breakfast.
The Fairmont Dallas
Address: 1717 North Akard St, Dallas, TX 75201
Fairmont Dallas hotel has been constructed in a European style. The Fairmont is in the Dallas art district, a cluster of cultural settings such as antique shops, yummy Tex-Mex eateries, beautiful parks & gardens, and electrifying nightlife. Since it is located close to the freeway, it offers easy & quick entrée to the Dallas Market Center, a major shopping center, and South Fork Ranch, a spectacular estate with its complete history.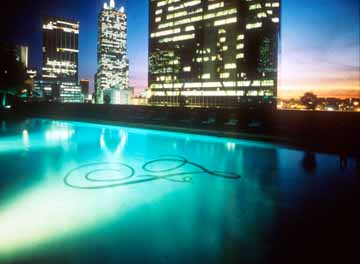 The hotel offers amazing services like Pyramid Restaurant, where guests have the opportunity to eat beside the pool, and Metropolitan Fitness Center to enjoy fitness center combined with spa facilities; guests are also offered facilities like laundry services, 24×7 excellent room services, rooms with climate control hairdryers, safes, Mini-refrigerators and cable TV. Another amazing feature guests can enjoy is the facility to bring their pets to this hotel. Some main attractions nearby are the Dallas Zoo, Dallas Market Hall, Old City Park, Dallas Convention Center, Dallas Museum of Art, Texas University, Fair Park, and many more.
The Fairmont Hotel is a Four-Diamond-rated luxury hotel in downtown Dallas's Arts District. The 24-story hotel has 550 rooms, an Olympic-size pool, 77,000 square feet of meeting space, including four ballrooms, a gift shop, a beauty salon, and a jewelry store, and offers a babysitting service. The Fairmont Hotel's restaurant, The Pyramid Grill, also has a Four-Diamond AAA rating. Fairmont Hotels are luxury properties known for their impeccable service, exquisite furnishings, and grand classical design elements.
The Fairmont Hotel in Dallas has 550 guestrooms, including 50 suites. Each room features classic Italian decor, and amenities include large desks, multi-line telephones with voice mail, data port, fax machines, extra long mattresses, goose down or hypo-allergenic pillows, safety deposit boxes, mini-bars, alarm clock radios, irons/ironing boards. Bathroom amenities include telephones, oversized bath towels, terrycloth bathrobes, shampoo, conditioner, lotion, bath scales, and hair dryers. Standard rooms are approximately 375 square feet.
The Adolphus
Address: 1321 Commerce St, Dallas, TX 75202; Phone: (877) 784-6835
The Adolphus Hotel is another renowned property that should not be overlooked. This historic hotel has welcomed travelers since 1912 and continues to impress with its grand lobby, sumptuous furnishings, and attentive staff. Business travelers will appreciate the convenient location near several Fortune 500 companies and delicious on-site dining options like the State & Allen restaurant. The hotel was completely restored in 1981 for $80 million. The hotel holds virtually every industry architectural, interior design, and hospitality award.
The hotel guest list includes U.S. Presidents, celebrities, and royalty. This world-class hotel is one of Dallas' most prestigious addresses. The hotel dining room, The French Room, received AAA's Five-Diamond Award. The hotel rooms are large, and the service is exemplary.
The Hotel Adolphus is located in the center of the Dallas Financial District. Within easy walking distance of the hotel are the Dallas Convention Center (3-1/2 blocks), Union Station (6 blocks),
the Dallas Museum of Art (6 blocks), the flagship Neiman Marcus downtown store (1-1/2 blocks), and the historic West End District (8 blocks) with its 40 restaurants and nightclubs. Also nearby are the Meyerson Symphony Center, the Majestic Theater, Fair Park, and McKinney Avenue antique shops and restaurants. The Dallas/Fort Worth Airport is 18 miles, and Love Field Airport is 7 miles away.
The Hotel Adolphus has 435 guest rooms appointed in a traditional English Country House style. Rooms have specially commissioned fabrics, furniture, and carpets. Room amenities include a fully stocked mini-bar, refrigerator, two telephones with voice mail and data port, alarm clock/radio, walk-in closet, iron and ironing board, marble bath, terrycloth bathrobe, bathroom scale, hairdryer, and shaving/make-up mirror.
The Hotel Adolphus has twenty suites. The Junior Suites are 750 square feet, elegantly furnished and feature a separate parlor area with sofa, chairs and tables. The Terrace Suites open onto party-sized outdoor patios, with sweeping views of downtown Dallas. The Skylight Suites boast floor-to-ceiling windows, wet bars, and ample room for intimate entertaining. All suites include Bulgari and Hermes bath sets for added pampering. The hotel's most luxurious suite is the Queen Elizabeth Suite, named in her honor after Queen Elizabeth II visited the hotel in 1991.